THE TCFD CAST TAKES THE STAGE FOR A MUSICAL PRODUCTION OF BEAUTY AND THE BEAST
THE TCFD CAST TAKES THE STAGE FOR A MUSICAL PRODUCTION OF BEAUTY AND THE BEAST
---
A Tale as Old as Time, A song as Old as Rhyme, 30 TCFD Students and Residents Shine!
Back in January, we announced our 6th annual main stage production at The Center for Discovery® – Beauty and the Beast – a Discovery Dramatic Arts production. For nearly 6 months, 30 cast members comprised of students and adults (ranging in age from 15-56), dedicated their time and met twice weekly for rehearsals, studying their lines and music lyrics and reviewing their dance steps. For those cast who are non-verbal, they rehearsed by using their body language to communicate within the context of the musical's songs and scenes.
And that's really the beauty of the productions that go on here. Each year, Conio Loretto, TCFD's Senior Director of Music Therapy, adapts the play and script in order to accommodate each actor and actress – and to also challenge them. Some cast members sing, others dance, and some use facial expressions – but each and every one of them come together for an outstanding show. And, what also makes this entire process so unique, is that the cast is learning important life skills, as well – whether that be social skills, communication skills, developing a sense of responsibility, or showing compassion for one another.
So what happened after over 40 rehearsals? Pure magic.
On May 29th and 30th, the 30 proud cast members took to the stage at our Michael Ritchie Big Barn Theatre to deliver one truly spectacular performance. For 5 of the cast, it marked their debut with Discovery Dramatic Arts. And for the other 25, this was not their first rodeo. A captivated audience of hundreds of staff, family, and friends were filled with emotion – smiling, laughing, and of course crying through 12 scenes of unadulterated joy. They enjoyed classics like Belle, Something There, Beauty and the Beast, and more. They reminisced back to their childhoods, especially during the famed "Be our Guest" ensemble scene, which certainly brought the house down!
"Whenever we rehearse these shows, I start to get so caught up with the details – is everyone standing where they are supposed to? Is the lighting right? Is it quiet backstage? Are the costumes on correctly? Are microphones working," Conio, said. "As I watched yesterday, I had a moment when I looked up at that stage and saw our actors and actresses performing so beautifully. I realized that in some ways I have come to take for granted what it takes for them to be successful…the challenges they have to overcome. And there they were…every one of them present in the moment…knowing their lines…acting…singing…dancing…growing…relating…and, truly showing us what courage and strength is all about.  And, I was reminded…THAT is why we perform these shows. I was so, so proud of everyone."
When we had a chance to speak with Ray's Mom (Ray was part of the ensemble), she explained" he was in the play, that's all I can say. I never thought he'd be able to do this." And that was the sentiment that each parent felt as they watched their son or daughter onstage. The evening was especially bittersweet for one mother – Kelly – whose son Patrick (Cogsworth) has been in every single performance, dating all the way back to 2006. "He did an amazing job and I am so extremely proud of him," Kelly said. This June, Patrick will graduate from The Center for Discovery.
There was one more special touch to last night's performance. Correspondent, Paula Faris, and a crew from ABC's Good Morning America was also there – documenting the magic on stage and the profound work of The Center for Discovery®. We'll of course be sharing additional details in the coming weeks about the very special Good Morning America segment that will air in June, so stay tuned!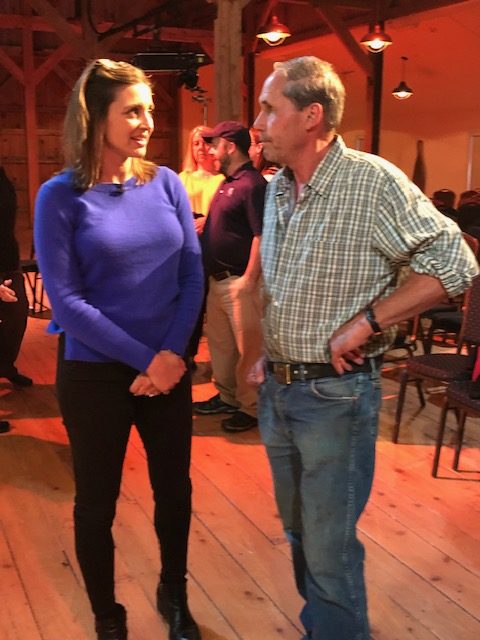 Correspondent, Paula Faris, speaks with a cast member's father, after the show.
And while everyone associated with TCFD is still on cloud nine after the two performances this week, it is so important that shout outs go to the many departments throughout The Center who took part in this spectacular production, including Music Therapy, Recreation Therapy, Education, Occupational Therapy, Therapeutic Dance, THINC, QI, Rehab Tech, the Office of Strategic Outreach and Partnerships, and more! Beauty and The Beast truly defined a team effort and it couldn't have been done without them.
This week was certainly one for the books, but every day at The Center is one for the books. Days where every member of our community strives to reach their fullest potential.
That's why we like to say, what happens here matters everywhere.  
For more information about supporting our Music Therapy and Dramatic Arts programs, please contact Richard Humleker, Vice President of Development, at rhumleker@tcfd.org.