TCFD ARTISTS STUN CATSKILL REGION WITH BEAUTIFUL QUILT
"Let the artist's hand show through…"
---
That was the philosophy behind a stunning mural "quilt" at The Center for Discovery®, and a new Center-wide arts initiative.
What creator, artist, and Residential Aide, Karen Smyth meant by those words is creating new opportunities for the individuals with complex conditions, such as autism, who painted the massive "quilt." "I told the residential staff to take their time in assisting the residents," she said, "Let their lines and really their voices – show through."
"It was about exploring through art – expression – to get their voices heard," she added.
At 8-feet by 8-feet the maple-leaf pattern barn quilt is more like a professional art installation, and it now hangs appropriately on the front of the Maple Syrup House at the Stonewall Farm in Hurleyville, New York, a part of the TCFD campus.
The project took about four months to complete. Each wood panel was primed with white paint three times and then required three coats of every color. The residents helped draw the lines and learned how to properly use a brush.  Many of the residents got the biggest thrill when the paint was dry and they could pull off the painter's tape to see crisp, clean lines!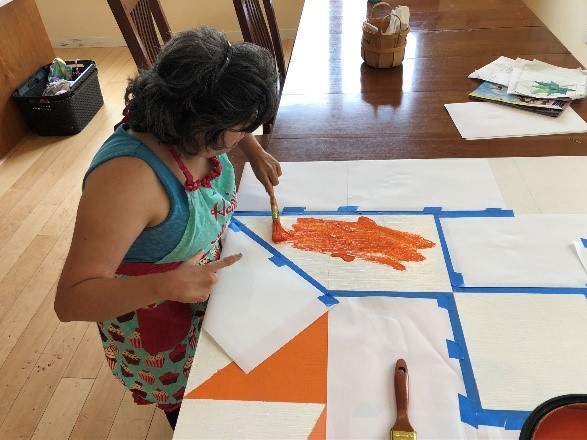 Like everything we do at The Center, the project required a team effort and benefitted the adults on many levels.  Our Residential team was there every step of the way working with our Occupational Therapy team to teach the residents and adapt equipment when necessary. Our Carpentry team made the panels and then hung them at completion.  And our Integrated Arts team made the supplies magically appear and supported everyone!
"Following months of hard work and engagement from one of our adult residences, the stunning maple leaf barn quilt found its new home front and center at the farm sugarhouse," said Jim Cashen, TCFD's Assistant Chief of the Integrated Arts team. He added, "This large and beautifully designed barn quilt will be admired for years to come!"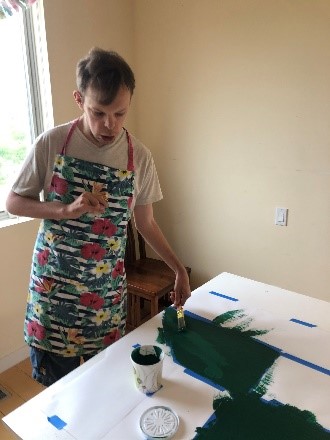 The project was such a success, Karen is now thinking BIG. As part of an ongoing TCFD Wellness Initiative, she envisions staff members and some of The Center's residents and students creating a massive mural or "quilt" for the future Children's Specialty Hospital.   "Dream it. Do it.  That's what we do here at The Center," she said.
The goal is at least 50-panels this time.  That's 50 teams joining together to design, teach, express themselves and be heard – one brush stroke, one color at a time.