STEPPING OUT IN STYLE – A BARN TO STAGE LESSON IN FASHION AND COURAGE
Move over Fashion Week NYC - you've got competition at TCFD!
---
Students and staff at our Thanksgiving Farm & Community School (TFCS) campus strutted their stuff down the red carpet and on the catwalk  at The Center for Discovery's first ever Fashion Show. It was indeed a picture perfect example of the hallmark collaboration that leads to such wonder and growth here at The Center.
As word spread and the excitement began to build, Christina and her team decided students should have the opportunity to design as well as model. So, they took the process as far back to its root as possible – our Sweet Hill Farm and its famous sheep. Under the supervision of Farm Program Coordinators Dawn Krenner and Frances VanPelt, students dyed the wool sheared from our sheep, and wove it into accessories – hats, headbands, and scarves. Teacher-in-training Kate Hindes, who has a background in art and design, even worked with students to pick out the colors, textiles, and look of the invitation and program.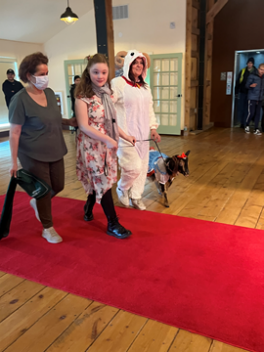 "The whole purpose of the fashion show was to be able to provide the students with an opportunity for independence, to be able express themselves, gain self-efficacy by walking the runway, as well as provide them with exposure to being in the spotlight in front of an audience," said Gissentaner.
"The Occupational, Physical, and Speech Therapists worked with our Education team to assure that there were rubber markers on the ground so the students knew which way they had to go, posted visuals so they knew when/where they could walk and that they could "turn & wave" if they wanted to. Other staff eagerly helped students pick out outfits from items that were collected and of course – accessorize," added Gissentaner.
We are very grateful to our one-of-a-kind-staff who never stop thinking, innovating, dreaming, and working so hard to provide opportunities that allow the individuals in our care to emerge like butterflies  and to express themselves in wonderfully new and exciting ways.