PROVIDING DISTANCE LEARNING DURING THE COVID-19 PANDEMIC
PROVIDING DISTANCE LEARNING DURING THE COVID-19 PANDEMIC
---
How do you provide distance learning to students who are unable to attend school, but learn best through interactive, hands-on activities? Nearly two months ago, when the entire state – and most of the country – came to a screeching halt, the teachers at The Center for Discovery set out to solve this problem.
In addition to our 174 residential students, The Center for Discovery serves approximately 125 day students who found their schedules, routines, and all aspects of their life turned upside down when schools throughout the state closed in the face of this pandemic.  In addition to the students' schedules and routines changing, families of these students faced the daunting task of providing 24-hour care for their children, all of whom have complex conditions and thrive on consistency and predictability.
The teachers immediately began designing their online learning platform to deliver our services in an organized and thoughtful way.  The primary intention was to support families to establish new routines, be a virtual resource during this difficult time, and to provide activities to help families continue the education of their child where they had left off.
Using a combination of familiar web based resources, a digital plan book, and daily live office hours, teachers have worked tirelessly and creatively to provide instruction for students, and face-to-face virtual support for families to navigate this very challenging expectation.  One of our teachers, Sarah, mentioned, "I think working together to find the right fit is most important. Each families' needs are different. I always manage to end our conversations with a good laugh, so that is helpful, too."
Our main goal has been to help students access fun, and interesting, activities that keep them connected to their friends, allow them to continue practicing critical skills, and learn new content.  As you can imagine, there is not a one size fits all approach to providing virtual instruction to our students! Our teachers continue to impress us with their collective creativity and focus on individualized instruction. In every task, the teachers are guiding families with tips, finding the "hook" that interests specific students, and focusing on ways that the students feel the connection to their friends by doing activities together, while apart. We have had several "theme weeks" that both residential and day students have participated in. We asked families to share photos of their child engaged with the materials or activities sent to them virtually, and the response has been incredible with so many smiling photos and joyful exchanges!
Here are just a few examples from our students:
Emily said, "I miss my friends," so her teacher provided social opportunities, she had a group meeting with her and another student, and for Twin Tuesday, the teacher and Emily dressed alike.)
Matthew has a rainbow in his room.  He said "All the rainbows and all the love is going to kill all the germs and the Coronavirus is going to go away!"
The first theme week involved students learning about and participating in the rainbow movement that has been sweeping the world, which you can read about here.
Recently, residential and day students were dressing up for a virtual spirit week, which you can implement in your own homes.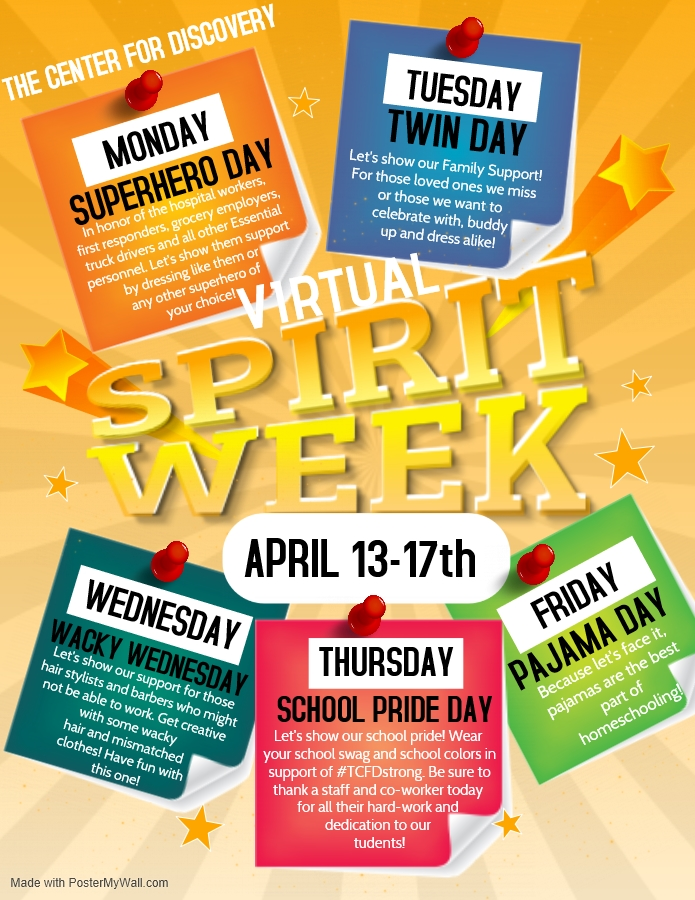 And during the week of Earth Day, students played Earth Day bingo, which was a great way to celebrate Mother Earth, while maintaining social distancing guidelines. You can simply reference this padlet that our Education team created, and together with your family, can complete as many Earth Day activities as you can, while trying to get "bingo" as you complete them! Here is what students across The Center are doing: https://padlet.com/nhendrickson3/2vrlbkjrp8lh8v7z.
Working together, we will come out of this safe and healthy and have some fun along the way! For any questions, please reach out to the Office of Strategic Outreach and Partnerships at StrategicOutreach@tcfd.org.