OVERCOMING CHALLENGES: TCFD ATHLETES SOAR TO NEW HEIGHTS
---
How do you measure once in a lifetime moments?
Here at The Center – we can see it in smiles. Hear it in giggles.  Feel it in the joy that surrounds us.
It is pure.  And, it changes us too.
This month, many of our eldest and medically fragile residents took on challenges that most people would shy away from, and they made it to the finish line – all the while teaching us lessons of grit and determination, courage and valor.
The first event was the 11th Annual Adventure Team Challenge NY.
Produced in collaboration with World T.E.A.M. Sports, an organization known for creating fierce athletic races pairing adaptive athletes, coaches and support staff, the 3-day challenge included a bicycle course, uphill hike and a regatta!
After a hiatus for the pandemic, the forty-five TCFD athletes and their aides were at the starting line seriously motivated for fitness and fun!  Our oldest athlete, 88 years young, pedaled the track twice!
There was a drumline and cheerleaders to open the games, and medals to all participants. The regatta included specially equipped rowboats and kayaks.
"This is what joy feels like, this is what hope looks like," said TCFD Assistant Chief of the Integrated Arts and the event MC, Jim Cashen. "Tears were flowing all weekend.  Laughter was ringing out too."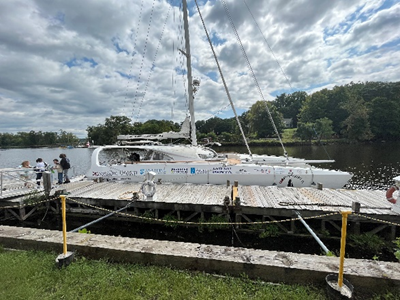 On the Open Water
The next week, the Impossible Dream became possible again for thirteen of our residents.
They sailed the "open water" of the Hudson River on the completely accessible, barrier-free catamaran, Impossible Dream, designed back in 2002 "from the keel up."
Every year the carbon-fiber catamaran fit to be sailed by anyone, makes its way up from Miami to Maine and then down the Hudson River.
On two different days, our residents took turns being "captain for the day" and lounging about the special net area – gazing at the water and sky.
Kadeidra loved both driving the boat and sitting on the net.  She admitted being a bit scared at first, but she overcame her fear quickly and said it was "a great experience." "Awesome," she added, was the word her friends used.
"It's always special," said our VP of Campus & Community Activity/Safety & Security & Infrastructure, Richard Humleker. "It's a treat of a lifetime for someone in a wheelchair to get on sailboat."
"We are so thankful to the crew of The Impossible Dream," commented TCFD Recreation Specialist Erin Atkins. "It's exciting for us as a department and agency to be able to provide this unique opportunity for our medically complex individuals. It is a coordinated effort and we're grateful to all of the team members that help us provide these amazing experiences to the people we work with."